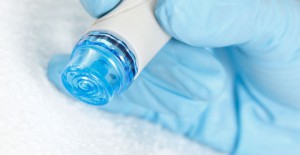 What is HydraFacial MD®?
HydraFacial MD® is an invigorating treatment that can be provided in as little as 30 minutes. Its treatment results in skin being healthier for longer period of time. HydraFacial MD® can be adjusted to meet the specific needs of all types of skin. It delivers instant, noticeable results with no downtime or irritation. The HydraFacial MD® treatment removes dead skin cells and extracts impurities while simultaneously bathing the new skin with cleansing, hydrating and moisturizing serums. The treatment is soothing, refreshing, non-irritating and immediately effective.
Why is HydraFacial MD® good for my skin?
Hydration is the foundation of healthy, radiant looking skin. Signs of aging increase when skin is irritated often, thus in order to slow down the aging process the HydraFacial MD® provides hydrating and non-irritating treatment.
Am I a candidate for this treatment?
The HydraFacial MD® treatment is designed for all types of skin, and even the most sensitive skin can easily tolerate the HydraFacial MD® treatment. By consulting your physician or skincare professional, specific treatment serums may be chosen and/or treatment may be customized for your unique skin conditions and needs. Consult your physician or skincare professional for a skin evaluation and sensitivity test.
How long does the treatment take? Is there any downtime or pain involved?
Our goal is to help support you, and your balanced lifestyle needs. That's why HydraFacial MD® is a fast, efficient treatment that takes as little as 30 minutes. Also, since there is no downtime after the treatment, you may put on make-up and return to your everyday activities after the treatment.
What results may be expected? How many treatments are needed in order to see the results? How long do the results last?
Many clients report seeing visible skin refinement and an even, radiant skin tone after just one treatment. The smooth results and hydration may last 5 to 7 days or even longer. We don't believe in quick fixes, so one treatment per month is recommended for improving the appearance of fine lines, wrinkles, hyperpigmentation, oily and congested skin. Continued HydraFacial MD® treatments are highly recommended to maintain the results of the healthy skin.
Who is it for?
It can be used to treat all skin types because the HydraFacial MD® Treatment is not only highly effective at improving overall skin health, but also excellent for remedying:
• Fine Lines and Wrinkles
• Elasticity & Firmness
• Skin Tone Evenness & Vibrancy
• Skin Texture
• Hyperpigmentation/Photo Damage
• Oily/Congested Skin
• Enlarged Pores
• Advanced Signs of Aging
• Acne/Back Acne/Chest Acne
How Does the Treatment Work?
The Vortex-Fusion®
The unique Vortex-Fusion® serum delivery system is what sets the HydraFacial MD® apart from other procedures. The multi-step treatment cleanses, evenly exfoliates and extracts to remove impurities and dead skin cells while at the same time replenishing vital nutrients including Antioxidants, Peptides and Hyaluronic Acid. Due to the devices' superior delivery system, these performing ingredients are able to be more effective at helping mitigate the environmental damage, reducing fine lines & wrinkles, and plump & firm skin for long-term results which can be seen and felt instantly.